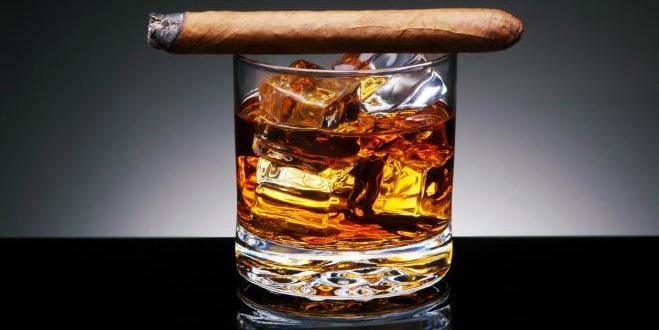 Whisky manufacture involves fermenting grains such as rye, malted barley, barley, corn and wheat. Spring water combines with the raw material and the whisky usually aged in wooden casks. Top Whisky brands classification depends on the types of grains used, the method of aging employed and forms of distillation employed. It develops character with age and so the best ones are those that have good aging period. Employing casks, which previously held a different alcohol, the whisky acquires a definite overtone of taste. Grain whisky is thus different from malt whisky. Single malt whisky will only have one malt grain, made in one distillery. Single cask means that there are no blends from other casks. Usually, the malts from several casks blended. Manufacturers produce blended malts from a single malt but from different distilleries. Blended whiskies have grain and malt blended together.
The top-selling whiskies brands are:
1. The Dalmore 15 year Single Highland Malt Whisky
Priced at £43.21, this whisky has neat and distinct notes of oranges and chocolate mingled with winter spices. This comes from seasoning these in opostoles and mutasalem casks. On the nose, you have potpourri appearing flavored. Fruitcake and sherry linger throughout. On the palate, you get chocolate, blue Curaçao, and zesty orange. The syrupy taste which have stem ginger and winter spice finishes off with notes of hickory and hints of anise. Overall, it finishes with tones of malty barley together with smoky espresso.
2. Lagavulin Single Malt Scotch whisky
This deep amber-gold 16 year-old single malt whisky has full, rich body. The characteristic of this malt whiskey is the peat smokiness combined with a dryness that makes the whisky truly amazing. On the nose, it is strong peat smoke combining iodine together with seaweed. There is underlying sweetness that is rich and deep. The palate is follows the sweetness and the smokiness with salt and sea and tinges of wood. It finishes on a long peat note with seaweed and salt. It sells for £43.31.
Glenlivet Single malt whisky
In this collection, we have the 18-year-old scotch, the cellar collection, the 12-year-old single malt, and the 16-year-old Nadurra cask scotch. The fundamentals of whisky making namely the spring water, oak casks and copper stills have remained unchanged over the years.
3. Glenlivet 18-year-old single malt scotch
This mellow dark amber-colored scotch has a smooth and firm body. It endorses the full round fullness of the palate that is pleasantly rich and sweet. On the nose, it is full with peat and sherry notes combined with floral notes. There is fruit and honey present. The finish is satisfying, rich, with drying tones of smoke and spice. It sells for £50.51.
4. Glenlivet Nadurra 16-year-old
The color is pale gold with shades of lemon. The nose is really fruity, tickling and intense. There is a dreamy note of pralines against a backdrop of herbal and spicy notes. The foreground has green apple and lemon pulp with rising notes in the fringes of aniseed. On the palate, the drink gives a feeling of oiliness and an intense crinkly sensation follows. There is no burning sensation but the taste remains a challenge, one gets a feeling of poached peach with vanilla syrup and chocolate. Overall, the taste is one of candied ginger and anise. The finish is crisp and dry and lasts very long gingery with bitter oranges.
5. Glenlivet 12-year-old single malt
This is pale gold in color, has a medium, smooth body. The notes on the nose are aromatic flowers, sherry notes, and simple and clean with touches of vanilla and spice. On the palate the slightly sweet notes overlap with peat tones and fruity vanilla notes. It is well-balanced and clean. The finish though mild is long with peat at the end. It sells for £27.28.
6. Glenlivet Cellar Collection 1972
This is beautiful handiwork, which reflects perfect distillation with the good maturing. The gentle spiciness combines with elegant citrus notes that overlays the mature oak notes. The nose gives sweet and juicy pear fruity with heather perfume together with spiciness and lower tones of wood. The palate is smooth rich fruitiness with gentle hints of smokiness. The finish is full and long with malt at the end. It sells for £455.66.
Glenfiddich Single malt Scotch whisky
This is a collection of whiskies, which has the distinction of having within its ranks the best malt whisky in the world, the oldest Scotch whisky and the most expensive Scotch whiskey.
7. Glenfiddich Solera Reserve 15-year-old
This has three casks in the group, New Oak, Spanish sherry and traditional American bourbon. The three blends together in Solera vat made of original Oregon pine that is always maintained half full. This keeps the consistency of the whisky constant. The blend takes time to settle for a while before bottling takes place. The taste has a fruity and full nose with honey and delicate vanilla. Palate is rich and deep that combines spice with fruit and subtle hints of oak. The finish is particularly delightful and satisfying. It sells for £34.35.
8. Glenfiddich 21-year-old single malt Scotch with Rum finish
The 21-year-old Scotch is finished in barrels that before contained Rum. The notes of stimulating and rousing coffee and toffee now develop in the creamy whisky. There is an urgent vibrancy with banana topped with floral notes in the ascendency. Rich toffee and figs dominate the intermediate notes while the taste brisk though initially soft. Smoke, vanilla, lime and ginger together with leather and spices finishes with long and spicy compliment to the rich tones. It sells for £81.82.
9. Glenfiddich Special Reserve 12-year-old Single malt Scotch
This unique Highland single malt matured and bottled in its own distillery is available throughout the world. The nose keeps pear tones, which lighten to fruity notes. The palate forms with good balance and fruit dominating the pine hints and touches of peat. The finish is lingering, smooth and has distinct delicacy. It presently sells for £28.29
10. Glenfiddich 18-year-old Single malt Scotch
This mellow and absorbing single malt Scotch whisky takes a lot of maturing in the casks. These casks contained American bourbon and Oloroso Sherry before. Maturing of the malt takes place in a cool environment. The nose has easy-going bountifulness of apple tinged with wood. The taste is robust, the malt is full-bodied and the finish round, long-lasting and remarkably soft. It sells for £45.46.