There are those days when you are really in the dumps, and there is the day when the bluebird just will not stop singing in the trees in your backyard. It is the time of the year when the bluebirds are going to be out by the hordes, its Valentine's Day. Valentine's Day the fourteenth of February, is a perfect occasion to show off your skills with the cocktail shaker. Mixing the perfect drink involves a lot of knowledge, practice and of course the perfect ingredient. When you have all these you have the makings of a great time. Valentine's Day has always been special for many reasons. It is connected with the saint of love St.Valentine primarily and lovers all over the world look forward to greeting their patron saint who defied the Emperor Claudius for the sake of love. It is the time of the harvest , the time when spring is in the air. It brings romance in to the social circles and people look up to each other with tender feelings. Tradition has it that this is the time when the hearts of young men can be conquered, and the time when young maiden fall in love. It is indeed celebration time. If there be love in the air, then the intoxication does not stop with the smitten but also spreads among those who stay to witness the scene. One would not be wrong in saying that sadness is a strong emotion. But love and liquor go beyond.
Try a few of the recipes first by yourself before you unleash it on your friends. The pleasure of mixing distilled beverages like gin, whiskey, vodka, tequila, rum or beer with a juice, fruit, honey, sauce, cream or milk, spices or liqueur in order to create a concoction that is delicious and invigorating belongs to the bartender. He is the person who creates these delightful surprises that intoxicate and charm the senses. Time ceases to exist as it used to and the people who imbibe in the lovely creations tend to wander off into another delightful dimension that exists for those who appreciate cocktails (Source: http://en.wikipedia.org/wiki/List_of_cocktails).
Celebrate your Valentine's Day with Special Vigor
The range is as wide as it is exciting. Only a true connoisseur would really stop before he is overwhelmed by the drink. Fix, Daisy, Punch, Bishop, Cobbler, Shrub, Sling, Smash and Flip are some of the many creations that exist. This historical classification helps one to understand what one is drinking and thus develop a taste for it. These cocktails are also classified according to the base spirit, or distilled beverage that makes up the drink. According to this we have in the Gin category, Gin Fizz, Gimlet, Old Etonian, Vesper Martini, Wolfram, Bloodhound and Martini. In the Whiskey category we would find Mint Julep, Bourbon Lancer, Four Horsemen, Three Wise men and Nixon. Popular in the Vodka class are Agent Orange, Harrogate Nights, Hi-fi, Vodka Sunrise, Moscow Mule, Bull Shot, Bloody Mary, Caesar, and Sex on the Beach. Rum drinkers would find the Bacardi, Planter's Punch,Hurricane, Sundowner, Brass Monkey Daiquiris and Pina Colada delectable.
It is like the day has dawned after a long night. You choose the variety and the drink. Try beer for example. Cocktails made with beer are called beer cocktails. The names of some of them are mentioned here. Flaming Dr Pepper, Gose, Porchcrawler, U-Boot, Hangman's Blood, and Irish car bomb. Cocktails made from brandy are Brandy Alexander, Incredible Hulk, Singapore Sling, Tom and Jerry, Paradise, Chicago cocktail,Brandy sour, horse's neck French connection, Savoy, Corpse Reviver, Orgasm, B&B, Stinger and Paradise.
Wine has its own share in the cocktail department. Wine or port is used to make these drinks, Golden Doublet, Ruby Dutchess, Savoy Affair, Moonwalk, Kir, Mimosa, Death in the Afternoon, Wine Cooler and Prince of Wales.
There are those who prefer the drinks based on Tequila. Some of them are Bloody Aztec, Chupacabra, Paloma, Tequila Sunrise, Margarita, Long Island Iced Tea and Bananarita.
If love is an intoxication the wise man chooses the right drink to complement the situation. It is difficult to choose a cocktail because they are all so individualistic and have their characteristic flavor. Let us start with the people's favorite the vodka.
3 Fast Olives Recipe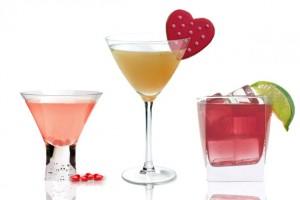 This is one way to get drunk fast. You may choose your vodka but the olive-pomegranate combo works best. For each serving you need 1 part Olive pomegranate Vodka and 1 part Energy Soda. Prepare a batch by mixing 6 Energy Soda with 6 parts of Vodka, you get to treat your friends also.
Similar drink is the 3 Dollar Hooker
For people who like their drink sweet, there is another Vodka drink, the Golden Eye a sweet and strong cocktail (http://en.wikipedia.org/wiki/The_Goldeneye) got by mixing amaretto and vodka. It is served in a traditional glass with ice and a lemon wedge. You could also use a lemon twist instead. Equal parts of vodka and amaretto are mixed over ice. You may use your own variations of the amounts of vodka or amaretto. Garnish with lemon and serve.
Sex on the Beach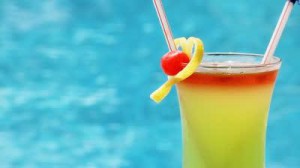 You might get ideas for the drinks, but a genuine cocktail with variations like Sex on the Beach adds spice to the Valentine's Day. There are two variation of this cocktail. One is the IBA cocktail while the other is listed in the Mr.Boston Official bartender's Guide. The first consists of vodka, orange juice, cranberry juice and peach schnapps. The second has vodka, Midori Melon Liqueur, Chambord, cranberry juice and pineapple juice. It is served in the highball glass after it is shaken in the shaker with some ice. There are some interesting variations of this drink. The Hard-rock Cafe's recipe is based on the second with lemon juice being used instead of cranberry juice. Sugar syrup is added and shaken and served using Collins Glass. A variation of the first uses orange juice in the first variation together with all the ingredients mentioned. In some places coconut rum is used as a substitute for vodka. Sex on the Beach mixed with half vodka, half Peach Schnapps and a little Grenadine is drunk as a shooter. When Fireball whiskey is used instead of Vodka, the Sex on the Beach becomes Sex on Fire.
There is a story told about why there are so many variations of the drink. It is just a rumor of course, but there was this man Sevitaan who had numerous girlfriends along the Florida beach line. Each of these girls had a favorite drink, some liked pineapple juice, others liked cranberry juice and there were those who liked many juices. The drinks thus became diversified and each acquired a different name. People say that they originally had the name of the mistresses of Sevitaan but then they were modified. Guess the name of the drink? Sex on the Beach!
Garnishing And Finishing Touches
The cocktail needs to be done to perfection not only in the taste department but also in the presentation aspect. A thing of beauty catches the eye before it enchants the senses. Let us see how to make the drink look better.
Orange Garnish: You do not have to go over the moon to make this garnishing. Choose a fresh and firm orange, and slice of the end ( you can use it in the refrigerator to freshen up the inside). Next choose the thickness of the wedge, it should not be too thick since it will look bigger than the drink. If it is too thin it might not stand up. If the full circle is too big, cut off a portion, preferably a half slice and put on the rim of the glass (http://cocktails.about.com/od/embellishments/ss/orng_grnsh_hw2_2.htm). When you cut your full circle, remember to make a thin wedge to fix it onto the glass rim.
Making a lemon wedge is just the same as making an orange wedge only be sure to remove the pips.
Making lemon Spiral: Use a lemon zester and fix the blade. It should positioned such that there is just the right amount of depth (http://cocktails.about.com/od/mixology/u/bartending_path.htm). If you cut too deep, the fruit will get spoiled. If it is too thin, only the skin will be there. Fix the zester into the top of the fruit and twist the lemon with your other hand. If you are careful you will get a really long peel. If you are not. the peel will break off somewhere half way down. Now rearrange the peel artistically so that there are no kinks. Drop it in the drink or drape it over the rim of the glass.
Rimming the glass: This is another of the fine touches to presentation. You use salt on the rim for margaritas. One may use sugar or cocoa also and this may be applied to a lot of drinks.
Shaken and stirred drinks
There is this eternal debate with regard to martini, whether it ought to be shaken or stirred. So, how do you know when to shake and when to stir?As a thumb rule you shake when you use cream liqueurs, fruit juices, syrup, dairy products or egg, or a sour mix. Shaking will make the drink could and the suspension will remain so for a long time. Some examples of shaken drinks are Mai Tai, Cosmopolitan, Chocolate martini and Ward Eight (http://cocktails.about.com/od/mixology/u/bartending_path.htm).
Stir the drinks that are using distilled spirits, light mixes but not anything thick , syrupy or has fruit. Martini, Rob Roy and Manhattan are examples of those that are only stirred.
Layered Drinks
These need a careful approach. Pour small amount of the drink into the glass. This is generally the heaviest or the densest spirit. On top of that the lighter distilled spirit is poured using a bar spoon or by gently tilting the glass. You can add as many layers as you like. Examples of this type of drink are Irish Coffee, Red, White and Blue and B&B.
Blending cocktails
This is an art that is developed over time. You might start with the recommended proportions and then work your way towards the right balance. Add the ingredients and put it into the blender. Do not add too many fruits or syrup at the beginning. After you give the mix a whirl, check the consistency. It would be thick enough to add ice and if needed give another short burst on the blender. If it is watery, add the fruits and blend again. Like cooking , every person develops an attitude and a perspective with regard to blending. Be sure to avoid using carbonated beverages while blending (http://cocktails.about.com/od/mixology/u/bartending_path.htm).
Whiskey Cocktails
Now it is time for the real action to begin. The Whiskey cocktails are for the guys who really hit it. If they are going to remember the day , they are going to remember the season. It is like the carnival that begins on the fourteenth of February.
Amber Moon: Ingredients are raw egg, tobacco sauce and whiskey. On could also substitute vodka for whiskey (http://en.wikipedia.org/wiki/Amber_Moon). It is a popular "pick-me-up" or a cure for those having a hangover. It is served in a highball glass. Crack one egg without breaking the yolk into a glass and put in 89 ml of whiskey.
Manhattan: This is an IBA cocktail. It has whiskey, bitters and sweet vermouth. The whiskeys include common whiskey, bourbon, Canadian whiskey,Tennessee Whiskey and blended whiskey (http://en.wikipedia.org/wiki/Manhattan_cocktail). It is served in a cocktail glass. Garnishing used is usually cherry. It is served without ice. It is also served in a lowball glass an Old Fashioned Glass.
There are many variations to the cocktail. One is Rob Roy where scotch whiskey is used. A brandy Manhattan has brandy instead of rye. A southern Manhattan is prepared using Southern Comfort.
There may be reasons and stories for these variations but the drink is named for one of the five boroughs of New York City. So all the stories are related to the local populace.
Tequila Cocktails
Everyone has had a Margarita or a Tequila Sunrise. But tequila cocktails are used often as a shooter (http://cocktails.about.com/od/tequilarecipes/Tequila_Cocktail_Recipes.htm).

Margarita: This can be made in so many ways. it is a summer cocktail, so many people like to have it neat, on the rocks or even frozen. 1 1/2 ounce of tequila, 1/2 ounce of triple sec, 3 ounce sour mash, lime juice, lime wedge for garnish and salt or sugar on the rim. Pour the ingredients into the cocktail shaker and add ice cubes. Shake for a while. Use margarita glass and garnish with lime wedge.
Horny Bull: This is much better than a screwdriver mainly because it is simple. Pour Tequila into a highball glass and top it with orange juice and you are ready to go. Put a lot of ice in. You can add a lime wedge or add lemon juice to this but that is your choice.
Paloma: Add tequila to grape juice, mix in lime juice and soda. Ice is optional.
Tequila Sunrise: Tequila added to orange juice and grenadine is your drink. It is one of the most popular ones and you may add ice if required.
Rum Cocktails
Bacardi: This originally was known as daiquiri. It has rum, lemon juice and sugar. One may add grenadine if required, it is the American version of the drink. 1 ounce rum ( Bacardi rum) , 1/4 ounce grenadine, 2 ounces sweet and sour mix make up the new version of the drink. It is shaken and strained into a cocktail glass. Lemon wedge is used for garnishing (http://en.wikipedia.org/wiki/Bacardi_cocktail).
Mai-Tai: Trader Victor J.Bergeron is credited with this creation. It is said that he created this for some friends and they cried "out of the world" when they sampled it. Hence the name 'Mai-Tai' which means really good. There are at least eleven versions for this drink. Three of them originated from Trader Vic himself. The ingredients are rum, curacao liqueur and lime juice. It is served in a highball glass. Recommended proportions are 40 ml white rum, 20 ml dark rum, 15 ml orange curacao, 15 ml orgeat syrup, and 10 ml fresh lime juice. The ingredients are shaken together in a shaker with ice. Then it is strained into a glass and dark rum is floated above the mix. Standard garnishing include pineapple or lime peel. Straw is used to drink this.
Wine Drinks
Mimosa: This is a cocktail consisting of sparkling wine, champagne and similar drinks, mixed with equal part of chilled citrus juice , preferably the juice of an orange and served in a champagne flute. It is a popular hair of the dog with morning brunch and also equally popular as a drink for wedding guests (http://en.wikipedia.org/wiki/Mimosa_(cocktail)).
Sangria: This is popular in the regions of Spain. It is mainly wine with plenty of chopped fruit in it. A little brandy is added to touch up the flavor. Sweetener is also added to add to the taste. Commonly used fruits are lime, apple, peach, berries, peach, mango and grape. Sweeteners like sugar, honey or orange juice is added. There are many variations for this drink. One may use white wine for example (sangria blanca) or mulled wine may be used with pear as the fruit. Death in the Afternoon: It is also called Hemingway Champagne, and Ernest Hemingway is credited with the creation of this drink. One measure of absinthe is poured into the Champagne flute. Champagne is added till a milky appearance is attained. Of course there are variations of these and the absinthe is replaced with Pernod. One could add a sugar cube and a couple of dashes of bitter (http://en.wikipedia.org/wiki/Death_in_the_Afternoon_(cocktail)) while another variation is got by adding lime juice sugar and water to the absinthe before one adds the champagne.
Now that you are all set to bring in the Valentine's Day, set your table and lay out the food. Isn't it time to invite your friends yet?