Understanding What is Alcohol
The tippler with his eye on getting intoxicated would refer to alcohol as booze or hooch. Any drink containing ethanol obtained through the fermentation and distillation of grains and fruits is termed as alcohol. Liquor, spirits, strong drink, bottle and moonshine also refer to the same thing in different places.
Origins of The Use of Alcohol
Discovery of Stone Age jugs distilling beer indicates that man fermented beverages even during the time period 10,000 BC. According to the evidence shown by the analysis of the chemicals left in the residues of pottery recovered in China, obtained after fermenting a mixture of honey, rice and fruits made the liquid or juice. In the period 3000 BC to 2000 BC Sura was prepared in the Indus Valley. Sura is prepared using sugarcane, wheat, rice meal and fruits like grapes.
The Babylonians, the Greeks, the Egyptians and the Persians were all equally adept at the art of preparing intoxicating drinks. Most of the civilizations used these alcoholic drinks to venerate the gods during festivals. Their link to the social life of the people are depicted in the numerous drawings that appear on the walls of the huts found during excavations that show people gathered together and drinking from one vessel.
The Egyptian god Osiris, credited with inventing beer, towered over the rest of the gods, all of whom had only a local patronage, while Osiris was venerated all over the land. Code of Hammurabi found in ancient Babylon is dedicated to drinking. God of wine for the Greeks was Dionysus and for the Romans Bacchus.
The English had been consuming ale and beer for centuries with their daily food. They brewed their own beer and used herbs, flowers and even oak leaves for making their wine. Colonial America was heavily dependent on alcoholic beverages because it was found that these were safer than the polluted waters found at that time. Moreover, they proved to be an excellent stimulant for working and socializing.
Terms Associated With Alcohol and Drinking Alcohol
There are a few terms related to drinking that one has to know. Let us see what they are.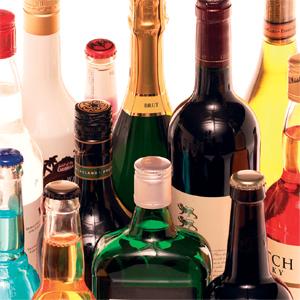 Aperitif: An alcoholic beverage taken with the idea of aiding digestion just before a meal is an aperitif. It may vary according to the meal and personal preferences but the most widely used aperitifs are dry champagne and fortified wine.
Nightcap: This is a drink taken just before one retires to bed, and it helps one sleep well.
Chaser: A second drink taken soon after the first with the idea of increasing the intoxication or inducing heightened pleasure.
Cocktail: A mixture of spirits in a predetermined ratio along with fruit or other toppings.
Peg: This is a measure that is used in order to keep the amount of wine being served uniform.
Shot: One shot of alcohol measures 44.3 ml, which is the equivalent of 1.5 ounces. It is habit of people to pour more into wide short glasses than into tall thin ones.
Wine: This intoxicant is prepared from fermented fruit juices usually grape juice. There are both red and white wines, which are drunk according to the dish that is being served.
Vodka: This is colorless or very pale liquor, which is distilled several times till the original flavor of the grain is absent.
Gin: Gin is similar to vodka but is flavored using juniper berry or flavored herbs.
Whiskey: This is made from a grain or a blend of several grains. One determines the type of whiskey by the primary grain used. Hence we have bourbon, scotch, rye and grain.
Alcohol As a Beverage
Alcohol is very useful for inducing the soporific effect though it could be habit forming. Imbibing it in little amounts could have good health benefits. People tend to form a particular taste for particular brand or cocktail. It is usually taken before and after a meal as a digestive aid.
Occasions When Alcohol Comes To The Fore
Celebrations are not the same if there are no liquors around, or so is the common belief. Keeping a bottle for the occasion that matters may be difficult for the common man who is accustomed to the tipple every once in a few days. However, when an occasion suddenly pops it head then you could always chip in with a bottle or two.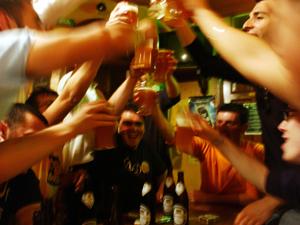 Birthdays are the most common, followed by anniversaries and parties. You need not put out the most expensive bottle out for the occasion but any ordinary bottle would also seem inadequate. So keep a few bottles of to warm you up. Tequila, cognac, vintage whiskey or champagne is all good so long as you keep some ordinary bottles, meaning alcohol that is reasonably priced handy.
Hold on to some special expensive bottles for the occasions, which are really worth going through the roof for. Glenlivet 18 year-old whiskey, McAllan Sherry oak 18 y-o, some bottles of scotch, a couple of inexpensive bottles of rum, vodka, beer, wine, and maybe a bottle or two of Dom Perignon Vintage. That should hold you and all the occasions in fort easily.
Cooking With Alcohol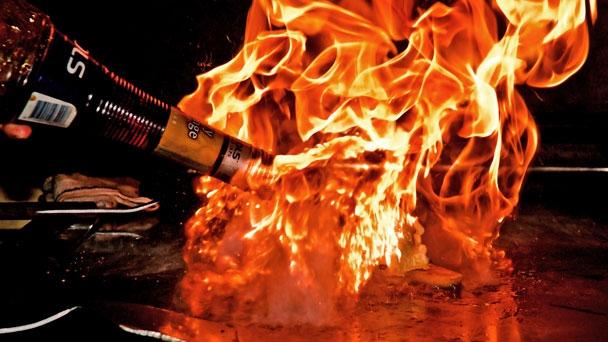 Rabbit, clams, crabs and desserts can be paired with the right alcohol. The method of preparation varies from boiling in the liquor to soaking the foodstuff in them overnight and then cooking them. Sometimes as in the case of flambés, they are poured over the dish and then lit for a dramatic visual effect. Beef Bourguignon, bratwursts boiled with beer and Ma You Ji chicken in sake are the finest examples. Liqueurs, cooking wines and vermouths are regular ingredients in most modern kitchens. Adding or cooking with alcohol adds a special flavor to the dish, something that suits the occasion very well.
Rubbing Alcohol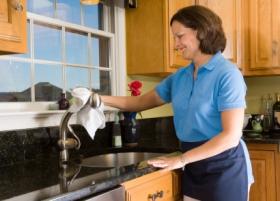 You may use rubbing alcohol to relieve muscular tensions and pain but they should be used sparingly since there are side effects associated with this method of treatment. Alcohol is used for sterilizing medical equipment and also an aftershave to keep the cuts and bruises acquired during shaving clean and sterile. It is also now finding use in sterilizing video heads and LCD screens of computers and laptops. It is useful for sterilizing the door handles, telephones, door knobs and TV remote controls.
Usage Country Wise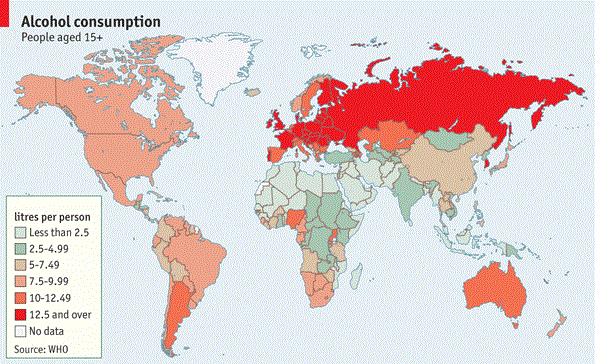 Hungary and Czech Republic (a little over 16 liters annual per capita per person) are just behind Moldova (more than 18 liters). Russia, Andorra, Slovenia, Croatia, Belarus and Ukraine are all a little behind at 15+ liters. South Africa, United States and Brazil have a consumption rate of just over 9 liters each. South Pacific countries like India, Sri Lanka and Indonesia have less than 1-liter consumption levels.