Getting on intimate terms with Cocktails
Cocktail is drink of any alcoholic beverage usually chilled mixed in a predefined proportion with other alcohols and sweetened by an additive such as vermouth or fruit juices. It is like the smile of any pretty woman who has come dressed for an occasion. This is the reason many insist that the cocktail should have one spirit, one sweet ingredient and one bitter ingredient. While this is not a strict rule, it helps one understand why it caters to a range of tastes. It sets the tone for the atmosphere in the room, and very soon, everyone is dancing.
Man and his involvement with Alcohol
We know that man has brewed alcohol since the Stone-age period. Never one to trifle with necessities, he has seen to it that intoxication and adulation were on par when it comes to social events. Veneration of gods and celebrations hastened along with alcoholic beverages. In keeping with that tradition, today we carry on with our celebration in the best way possible.
Cocktail Specials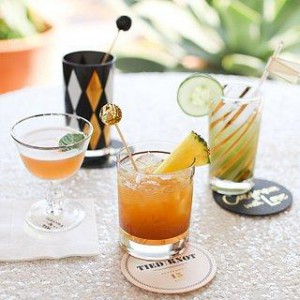 Cocktails are popular mostly because of their names. How to make a Tequila Sunrise or a Martini Dry would need no special skill, but being ready with the ingredients helps. Popular classifications for cocktails have come down the ages. Everyone is familiar with Swizzles, Swings, Daiquiris and Martinis. So also with Cobblers, Highballs, Collins, Manhattans and Sours.
Bourbon Cobbler is like the raindrops on the rooftops. Add sugar in the soda and pour into an old-fashioned glass. Fill the glass high with the crushed ice. Trickle the bourbon and stir. Garnish with lemon or orange wedges. In the Old-Fashioned cocktail, we first add bitters to the sugar and water. Then you add ice and bourbon. Garnish with orange slice. In the Scotch Old Fashioned, you use scotch instead of bourbon.
Naming of the Cocktail
Leisure is like a stick. If you grab the wrong end, you end up staring around and doing nothing. Drinking is to the expert a diabolical means to make perfect harmony and peace. The first references to 'cocktail' were during the beginning of the 1800s. However, the name probably came into usage because of one of the following reasons.
Cock-shaped dispenser for drinks: Innovations in the way of shape often led to alcohol containers having the shape of various animals like dogs, cats, cows and roosters.
Cocking the snook: Famous five-fingered salute that is actually thumbing the nose, the drinkers often mixed the drinks with their fingers and this led to a vulgar reference for cocktail.
Tailing the cock: Many bars have animal or bird shaped pewter, into which the rest of the drinks collected. Anyone who could not afford to pay for the drink would tail the cock or jack the bunny to get his mugful of drink. The drink was very potent being a mix of many spirits.
Some Specials
Before we begin to play ducks and drakes let us find, the Cinderella in this ball. First, we have Belvedere Royal Wedding Punch. Simple to make, it has green tea together with Belvedere Vodka and fruits like lemon or apples. Mix them both in equal amounts. You can add lemonade or Absinthe to add some pep to the affair. Horny Bull is waiting in the wings. Pour Tequila into a glass with crushed ice.  Top the drink with orange juice. Fuzzy Navel is light and refreshing. Mix 1½ ounce of peach schnapps with orange juice. Corpse Reviver should prove handy. In this we mix 1½ ounces of brandy with half that amount each of another apple brandy and sweet vermouth. Stir well with ice and serve in cocktail glass.